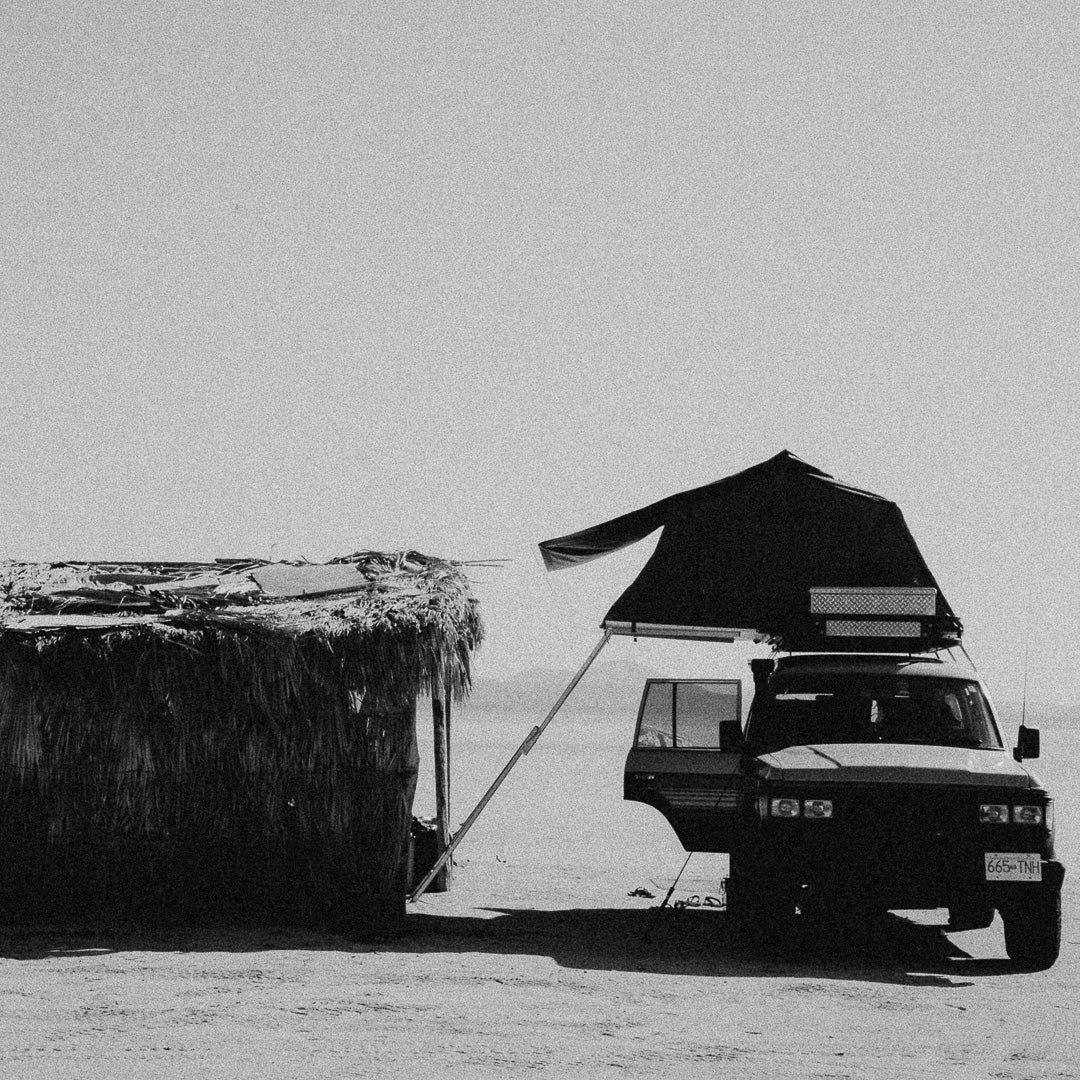 Hey, we're one year old! Or are we??
to the next journey (TTNJ) has been in the works for a while, over a decade now to be precise. So where did it all begin? How did it get here? Why does it exist? It didn't all begin with hot sauce.
In 2012 we (Ben and Pegah) got married and built a website listing our wedding event details for guests. It was called to the next journey (TTNJ). It doubled up as a travel blog documenting our honeymoon. It was a defining moment in our lives when we quit our "career" office jobs, sold most of what we owned, got married, moved into our 60s series Land Cruiser with a roof top tent, and said "alright, let's go get it!"
We had a loose plan of driving the Pan Americana the whole way down to Tierra Del Fuego, but like all good adventures, for circumstances beyond our control, the route changed a bit. We adapted and made it up as we went along. That was a part of the beauty. We drove southbound along the west coast from Vancouver, BC all through Central America, shipped across to Colombia in South America, drove to the border of Peru and then looped back around the east coast of the States, all through the Maritimes, Newfoundland and Labrador included, and then back across to Vancouver. Clicking just over 60,000 km's, our time was a nice balance of being in solitude just the two of us and sharing moments with other fellow nomads both locals and from abroad. Folks that just wanted to do things a bit differently, set out to create their own story. Young couples, families, older folks, in vans, on motorbikes, bicycles, by foot, you name it! It was a rich and beautiful way to start this next chapter of our journey together.
Sleeping under the stars, in the jungles, on the beaches, in mechanic shops, in peoples yards and the list goes on. Even with our language barrier (our Spanish is very beginner) we discovered that no matter how remote or central we were, we seemed to always have the pleasure of connecting with locals and fellow travellers. As soon as we'd post up, it was like this gravitational force. At first we thought perhaps it was Herman, the right hand drive Land Cruiser, it was kind of different and neat. Then we realised over time that the two main themes that seemed to permeate most of our blog posts were adventure and food.
These experiences were all rather humbling, in the sense that we quickly discovered that being a good cook doesn't necessarily have to do with the hours spent in a formal kitchen. In a similar vein, having an adventurous spirit doesn't need to be qualified by the amount of summits you've scaled. These are unique skill sets that we tip our hats off to those who undergo that training and discipline, but this was a much deeper, visceral connection to food, people and space. We had some gear, but not all of the gear. This forced improvisation. And if you think language is a powerful tool helping you connect with others in a foreign space, try food. The universal love language. We spent time connecting with others over a fire, cooking all sorts of elaborate and not so elaborate meals. This naturally morphed into our daily routine. The back of the truck and the firepit became this magical space where we'd sit just by ourselves or with others, cook, listen and exchange adventure notes. It wasn't always romantic wanderlust #camplife tales, there were stories of sadness, grief, loss and hardship. Everyone faced certain challenges, and all our robes of modernity, identification and status were placed to the wayside when we would gather around the fire, cook together, share food, listen and learn. It opened up our eyes to an ethereal beauty in our world that we never knew existed.
After this extended road trip, we moved to Ben's home country, Australia, in 2014 and suddenly had to start working again to earn a living. We took our last dollars in the world and set out to do what we thought we do best. Cook for people. Over a fire. In an outdoor setting. We made our way up to beautiful Byron Bay, NSW and started a mobile Persian food business called "Koobideh - by TTNJ," later became just Koobideh and toured around the local market scene slinging our version of Koobideh, a Persian style lamb and beef kebab cooked over all natural charcoal, and served as a street food style wrap product. I (Pegah) was thrilled that I got to share my culture's food in this tiny slice of paradise, and Ben was in his element cooking over a flame yet again. Without any planning, just flying by the seat of our pants, this little market stall took on its own commercial premise and expanded into major events, festivals and catering.
In the middle of this business life cycle in 2017, we had twin boys, kicking up this magnificently wild roller coaster of small business ownership up a notch! In that same year we had the boys, Ben asked me to develop a hot sauce that he could take to market and offer customers when they bought a wrap. At first, this seemed a bit sacrilegious as Persian food is not typically served with hot sauce, but Ben quickly convinced me that just because it isn't traditionally done, doesn't mean it can't be delicious. I emailed our supplier, asked them if they could source local habaneros and began experimenting in the Koobi-Lab. I reluctantly bottled up some jars that he took to market, and the next thing you know it all got used and I had to make another batch.
So like every good cook, I had to sample what I was making as the end consumer. I went to the market, ordered a Koobi wrap and put some of our hot sauce on it. I sampled and I was shocked. You see when you grow up eating a certain food, every aroma, texture, flavour profile resonates with you in a completely different way than if you learn to cook the food as an adult. The topic of memory and taste is vast, and the nuances of the gustatory and olfactory system are complex to say the least, but suddenly, this product (the Koobi wrap) I was already pretty stoked on, was elevated to a wild new place, my taste buds were singing. There was something so delightful about the added layer of heat that the hot sauce brought to the flavour profile of the overall product. It was awesome. Just like that, the habanero hot sauce quickly became a part of the regular prep and production line, but only as an additional topping that we'd offer to accompany our other products. We never thought about bottling and selling it in Australia. Well, at least, I didn't. Ben, however, was always a secret/not so secret advocate for the bottling of the sauce. 
Now fast forward a bit, the boys are growing and we decide that it's time to change things up and move back to the mountains in Canada. So just as we begin to sell our equipment and commercial lease a pandemic sweeps over the world. Well that pretty much solidified our decision to get out of the events industry. Next chapter please.
We settled in Squamish, BC in 2021 and once again we're looking at each other asking so now what do we do? Back to the drawing board. We started to jot down new business ideas and names, we knew we didn't want to get back into the food service sector, and our next area of interest was exploring the outdoor recreation industry. We began our market research, met with some industry experts right here in the area and started putting together a business plan all while prototyping camp furniture and outdoor clothing. That's when Ben suggested I bottle the habanero hot sauce as a side product to help draw some folks to the brand, and because every good outdoor recreation retailer needs good hot sauce, right? I dragged my sister into the kitchen to test a couple of batches, then I found a local commissary kitchen and a supplier and ordered some habaneros.
We're either horrible at coming up with business names or we just peaked with TTNJ, so on May 5, 2022 we launched to the next journey (again!). We set up an e-commerce site with the intention of selling a foray of outdoor related products. Then slowly, one by one, all of the other products besides the hot sauce, kinda fizzled out. This is where we realised that just because we didn't want to run a food service business doesn't mean that we can't create a food brand. Especially, one that represents what we believe in the way of food - clean, real ingredients, real flavour, taken outside. Then things started to get really fun…
Over the course of the last year we launched our standard line of hot sauce flavours - Habanero, Pineapple and Jalapeño and began market testing, refining, and ultimately setting the foundation for the next journey. Even though we have both worked in the food industry for a couple of decades, we're new to this food manufacturing thing and have a lot to learn. We're setting out to create products that ultimately line up with the overall TTNJ ethos, one that gives precedence to time and quality as opposed to scale. We're kicking it into low gear, going slow and focussing on sustainability. We aim to be a part of that small wave that sends ripples through the larger food system, shifting the focus from the bottom line being the dollar, to the health and well being of our communities.
Sitting back and looking at this last year has made us realise that the wheels have been set in motion for this little brand of ours for a while now…eleven years to be exact! to the next journey (TTNJ) has been a part of who we are for a long time. In fact, I don't think it ever really left. Now that we have kids, our passion for food and eating well while adventuring in the outdoors is stronger than ever. We don't have the Land Cruiser anymore but cooking and gathering around the fire in our yard, and seizing the opportunity to adventure (however big or small) is still a part of our regular routine. Creating a brand that embodies and represents this through an incidental hot sauce line has been yet another unconventional undertaking that we revel in. We love hearing about how our hot sauce elevated a pocket sandwich taken into the backcountry, cold pizza leftovers consumed at the local pump track, and made its way into the cooler for the family camp trip or backyard BBQ spread. This is what it's all about.
 Nestled where the mountains, forests, rivers and ocean meet, we've proudly decided to make our products in Squamish, Canada. It is with respect and gratitude, we operate on the shared unceded territory of the Skwxwú7mesh (Squamish) and Lil̓wat7úl (Lil'wat) Nations. As immigrants to this beautiful country, we don't take for granted the opportunity to have ourselves and our source of livelihood exist here. It's a gift that we cherish deeply.
We thank each and every single person who has tried our products this last year. We look forward to creating new products and bettering what we do. Now…let's go get it, friends! To The Next Journey!!!!!